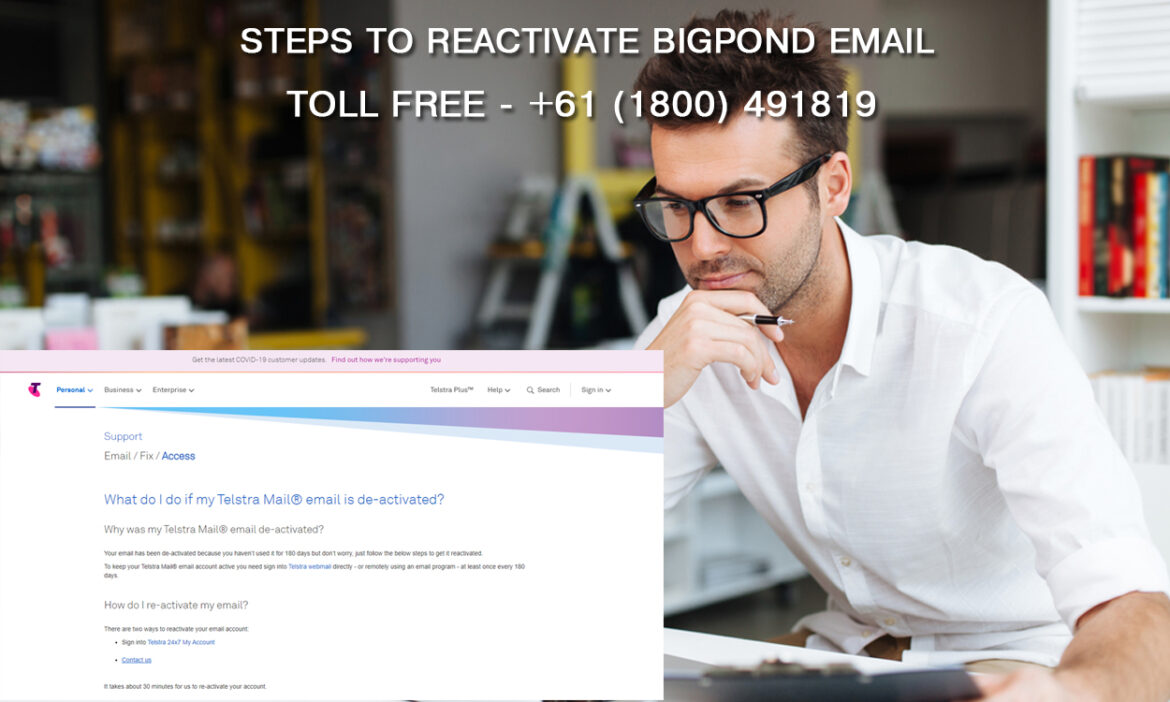 Are you getting the message "Mailbox Deactivated" while trying to log in to your BigPond email account? Well, there could be several possible reasons as to why your account shows deactivated. While some might be under your control, there would be few reasons which would not be under your control. Let us take a close look at the reasons because of which you might find your BigPond email account to be deactivated. After looking at the possible reasons, we would go on to discuss the ways that would help you to reactivate your email account. So do not worry and read on.
Reasons due to which your BigPond email can be suspended
Outstanding Bill: If you do not pay your Telstra bill on time, they would suspend your account and hence your BigPond email account will be deactivated.
Unused: It might be that you have not logged in to your account for many days. Telstra generally deactivates email addresses if they are not used even once within a period of 180 days. Not to worry, you can reactivate your email account easily.
Spam: There have been cases where Telstra has deactivated an email account due to spamming. So, avoid spamming and also check if someone else has access to your mailbox and has been spamming from your mailbox.
Account Closure: Once you chose to close your account with Telstra, your BigPond email account will be deactivated. It will be kept for a period of 30 days after which the email account, as well as, the data would be permanently deleted.
Location Change: If you have changed your location recently and have been facing issues with your email account, it could be due to issues with Telstra's network.
Outage in Telstra's network: Sometimes, due to outages in Telstra's network, users face this issue of "account deactivated".
So these were the different types of reasons that may cause deactivation of an email account. Now, let us look at the way by which we can retrieve our account back.
Ways to reactivate your BigPond email account
Pay the outstanding bill: You will know if you have an unpaid bill. You can log in to your Telstra 24*7 My Account and pay the bill. Your BigPond email will be activated within 24 hours of receipt of bill payment.
Log in to your BigPond email account: If you haven't been logged in to your account for over 180 days. You can try signing in to your webmail. If it doesn't work, reach out to Telstra's customer support and they would reactivate your email from their end.
Verify Telstra network: If you have recently shifted to a new location, browse the URL http://servicestatus.telstra.com/ and enter your postal code to check if there is an issue with the Telstra network in your area. If yes, you can wait for the issue to be resolved. If not, get in touch with the support team.
Contact Telstra customer support: In case of outages and other issues related to account deactivation, you can contact Bigpond Customer Support Number over the phone and chat. They would work on your issue and reactivate your BigPond email from their end.
So, if you have your email deactivated, you could follow the above steps to reactivate your email account. It is recommended that you keep backups of your important emails and data, just to be on the safe side. Apart from that, rest assured, the Telstra team is there to help you out with all your issues.