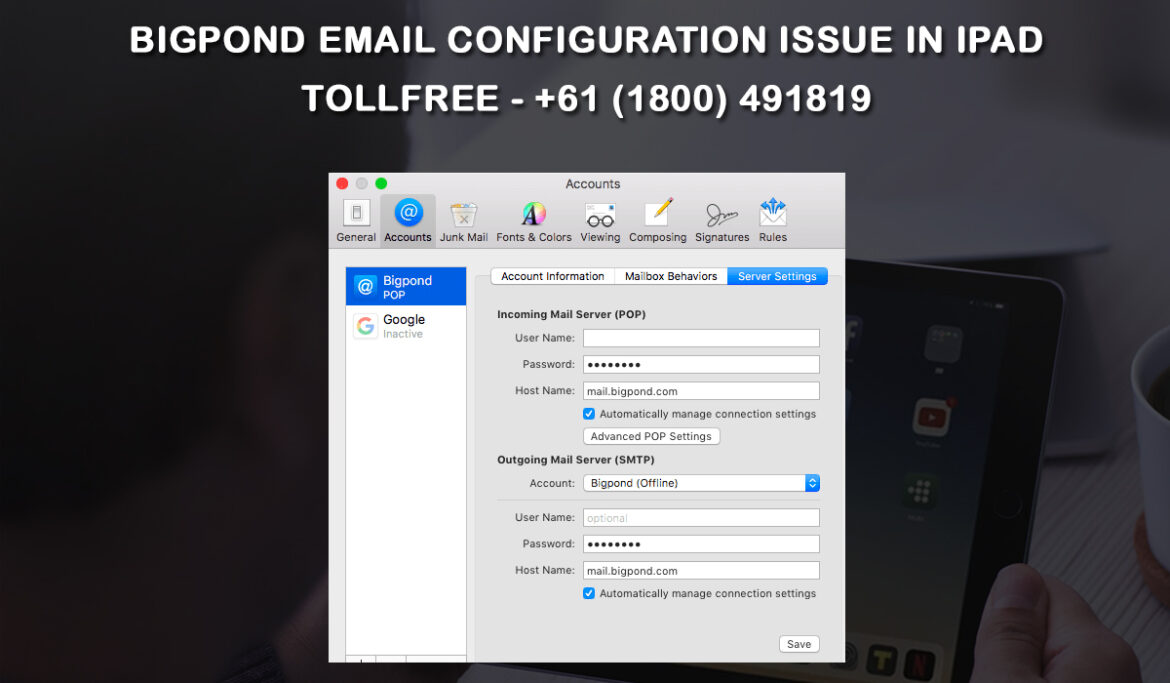 Telstra Telecommunications' BigPond is Australia's largest ISP which launched "BigPond webmail" as one of the top email service providers because emails are the most professional online communication method. The best-priced webmail service is offered by Telstra under the BigPond name.
Telstra, on the other hand, has been updating its products and services since 2013. As a result, BigPond webmail is now known as Telstra mail.
We all know that BigPond is a full-service email provider, but when using BigPond, many users may experience confusion and issues in setting up the account or while using the email client. BigPond email users who are experiencing problems while trying to configure their BigPond email on iPad can refer to this article for assistance.
First, we'll show you how you can correctly configure your BigPond email on your iPad or any other iOS device.
First up, open Settings and head over to Accounts & Passwords.
Inside, click on Add Account and then select Other.
Next, click on Add Mail Account.
Enter your name, use your username@bigpond.au, username@bigpond.net.au, and username@telstra.comas the Email.
Next, enter your BigPond password and use BigPond as the description.
Select Next and select IMAP(Internet Message Access Protocol) which you can see at the top of the screen.
Under Incoming Mail Server, enter imap.telstra.com as the Host Name, your username@bigpond.com as your username, and enter your password.
Under Outgoing Mail Server, enter smtp.telstra.com as the Host Name, your username@bigpond.com as the Username, and then enter your password.
Make sure that the mail is enabled. You can confirm this by checking if the toggle is green or not.
At last, click on the Save button to successfully configure your email settings on an iPad.
These settings should help you get your BigPond email up and running on your iPad. Below, we'll show you some solutions to try if you still aren't able to configure and use BigPond email on your iPad.
Make sure that your iPad has been connected to a proper and stable network connection.
Resetting your Network settings might also help if other solutions don't work. To do this, go over to Settings > General Settings > Reset > Network reset.
Disabling any third-party apps/ antivirus that might be interfering with your account could also help. See if you have an antivirus or any third-party apps blocking access to your email client.
Delete your BigPond account and reconfigure it again. Although this may take some time, many users have succeeded with this step so why not give it a try?
Clear caches and cookies from your device as less storage and performance issues could also hinder the configuration process.
If the problem persists, call our technical support team for further assistance.